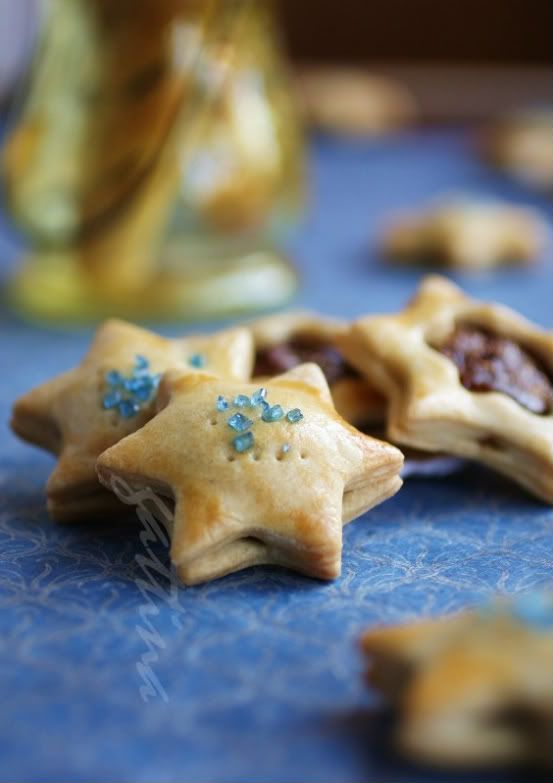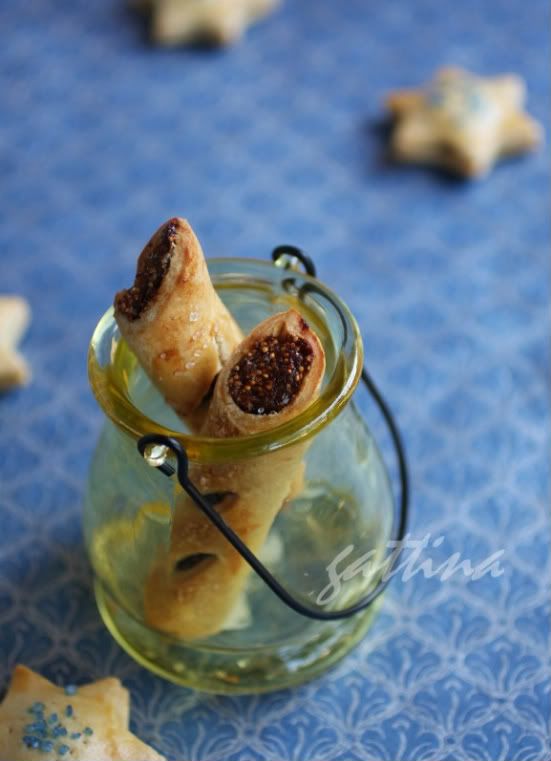 El rellano de estas galletas me parece el pan de higo, expecto que su textura es más blanda y lisa. Hace algunos años, vivía en el barrio en
New Jersey
(EEUU) donde hay muchos inmigrantes de Italia. Las amas de casas solen hacer las galletas de higos secos para la estación de la Navidad. Normalemente las foman a la letra X (para ser X'mas) o a un baquette mini. Le he explicado en
mi post inglés
alguna vez, podrias verlo por los fotos.
Recientemente compré un paquete del higos secos, pero aparecen pocos mas secos. Después de escalfarlos en
el vino rojo con especia
, sus texturas y sus sabores salen muy fantásticos, por lo tanto los hice a ser puré con almendras, chocolate y unos especia, se convierten riquisimo, perfectamente para llenar a las galletas.
(Traduciré la receta inglesa al español pronto)
Red Wine Fig Cookies

(yield 16 cigar-shaped cookies plus 10 star cookies)
recipe courtesy X Cookies by Nick Malgieri
(the following version of mine doesn't include any sugar in the dough, the sweetness would be coming from the fig filling and sugar sprinkle outside)
To make the cookie dough:
300 g plain flour (the one for making bread not suitable)
1/2 tsp baking powder
1 tsp salt
110 salted butter, cold, cut into small cubes
2 very large eggs
(sugar for sprinkling on top)
(1 extra egg for egg wash)
In a large bowl, well combine the flour, baking powder and salt. Drop in the cold butter cubes, use a pastry cutter to further break up the butters while mixing them with the flour until the size of the butter is similar to very coarse cornmeal. Add the eggs and mix, knead briefly if necessary, then you would get a tender and soft (but not sticky) dough.
Divid the dough into three portions. Wrap them well and place them in the lowest shelf of the fridge, rest for a half day. Then roll them into a flat disk, wrap them up again, rest for another 2 hours (at least) in fridge. After that it's ready to use.
To make the filling
30 almonds, ground them

a big handful of finely chopped milk chocolate

1 tsp instant coffee granules, crushed into powder
* select the figs a bit dried which are more suitable for poaching. If yours already moist enough, you can follow Nick's ingredient list then.
Bring the spice-infused red wine to boil, add the dried figs, lower the heat and let the liquid simmers for 15 minutes or before the figs are turning too soft. Drain the figs very well. Process them into a paste. Then combine it with ground almond, chocolate and coffee powder. Taste and adjust the texture/ flavor by adding a bit more fig or chocolate or almond if necessary.
To assemble the cookies
To make the cigars - Roll one portion of doughs to 2 mm thick, try to roll it to a rectangle shape. Then refrer the step-by-step photos of my previous post for wrapping in the filling. The difference is, this time I made the log bigger, and with a help of very sharp razor blaze I made 2 slits on top of each cigar. Egg wash and sprinkle sugar allover the top of the cookies.
To make the star cookies: Roll one portion of doughs to 2 mm thick. Use a cookie cutter to cut out 20 pieces of dough. Spoon the fig filling on 10 of the pieces, cover the top with another plain piece. Egg wash, and generously sprinkle sugar on top (please note this type of cookies is not able to hold a lot of filling like cigar cookies do, so it's better to sprinkle more sugar outside)
Pre-head the oven to 170F.
Bake the cookies for about 15 minutes, you can lower the heat to 165 F in the last 7 minutes if the cookies turn brown too quick.