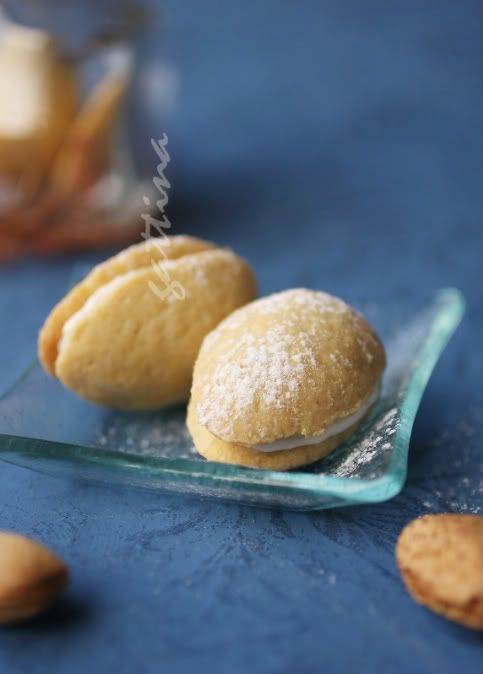 Lusikkaleivat (unas galletas escandinavas) coge mi atención a los dos espectos - la forma atractiva de la almendra, y el requisito a tostar la mantequilla. La mantequilla tostado supone dar un sabor más profundo a galletas. ¡Qué coincidente una más receta similar! Apicius de La Cocina Paso a Paso hizo las galletas de mantequilla tostada, me parecen buenisima, y su post explica como se cocina la mantequilla paso-a-paso muy claramente. Os recomendaría para leer su entrada.
Mi receta originalmente requiere 220 gramos de mantequilla y una cucharadita de bicarbonato, pero no lo quiero consumir cualquiera uno de ellos demasiado. Asi que los he bajado a una mitad, mientras he agregado algunos ingredientes para condimentar las galletas a mi gusto. Ahora me estoy apresurando a ir mi escuela (apprender español), después, volveré aquí y traduciré la receta. Hasta luego!
Recipe of Mediterrean Cookie Nuts
(
yield about 40 almond-shaped cookies, before being filled
)
The original recipe is called
Finnish Teaspoon Cookies (Lusikkaleivat)
, written by
Beatrice Ojakangas,
published in her book "
The Great Scandinavian Baking Book
" 1988. Her recipe calls for 210g butter (no olive oil), more sugar and baking soda but minus the egg white and lemon zest.
110 g butter (top quality is a must)

3 Tbsps (maybe more) olive oil, not extra virgin

70 g sugar

seeds from one vanilla bean

zest from 1 small lemon

1 small egg

300 g plain flour

1/2 tsp baking soda

a good pinch of salt

for the filling: you can use quality marmalade, or nutella, I use meringue + ground almond
Direction
In a medium-small heavy skillet, cook the butter over medium/ medium-low heat for 2 minutes or until the melted butter turns pale tan color. Let cool to lukewarm.

In a mixing bowl, combine the melted butter, the olive oil, the sugar, the vanilla, lemon zest and the egg.

In another big mixing bowl, combine the flour, the salt and the baking soda, and together with the butter mixture. Knead a few time (and add little more olive oil if the dough is too crumbly). The dough is formed smoothly but shouldn't be too oily.

Line a large baking tray with baking paper. Pinch out some dough and press it into a teaspoon (see the photo above), then remove it and place it onto the tray, flat side down. There seems quite a bit of work but you'll work much faster after you get the hang of it.

Bake the cookies in a pre-heat oven 165 - 170C for 8 - 10 minutes, take them out before they turn golden brown.

After the cookies cool off, take one cookie and spread the filling of your liking on the flat side, cover it with another cookie, so an almond-shape is formed. But if you want to store the cookies, skip the filling, and only fill them before it's to be served.